Earlier in March in the spirit of Mardi Gras and Lent I was set to make Trout Meniere Amandine. I found the recipe in a cookbook featuring dishes of New Orleans, which being a French classic, Trout Meniere Amandine was included. Well, the day got away from me and I never made it to the store to get the fish, so, still in the mood for fish, and hungry and wanting it fast but not wanting to dine out, we decided to get a carry out. But from where? We didn't want to spend a lot of time deciding so we just called the local bar and grill. The fish and chips we got were standard. Nothing great… nothing bad, but it inspired me to find out where other people get fish and chips and if there was a place that excelled above the rest so the next time we wanted some we'd know exactly where to go.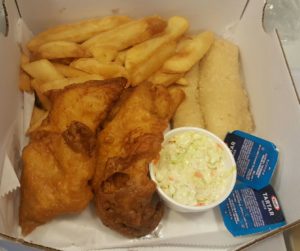 Well, the recommendations came in…Dinghy's in Frankfort, Whitey's in Davison, Commonwealth Club in Warren, The Hideout in Clawson, Tom's Oyster Bar in Royal Oak and Scotty Simpson's in Detroit.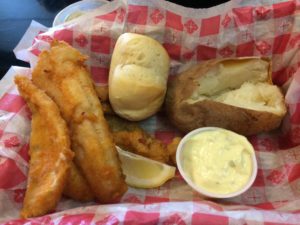 The post inspired dinner plans to Scotty Simpson's, which I'd never heard of before, but shortly after hearing about it in my post feed saw it (two days later) featured on Live In The D – Dining in the D. WoW! This did look like "the best fish and chips in Detroit" as my cousin who recommended it attested to! And as some say…in the world!
That was the only place of the recommendations that I made it to, and there's nothing more I can say about it that wasn't said in the video clip here…it was spot on! Friendly and delicious!  
I also had fish and chips from Brown Iron Brewhouse and fish tacos, which were good. The batter on the fish and chips, melts in your mouth, and the coleslaw, as you can see, didn't last long!
I also managed to make Trout Meniere Amandine, but with whitefish – floured, salt-and-peppered and sautéed in butter with lemon and worcestershire sauce. I'll give myself a pat on the back… It was fantastic!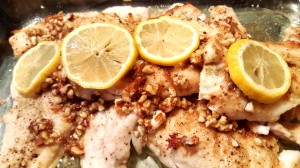 So, today being Good Friday, if you are looking for one last fish and chips meal for the season or looking to whip up a dish of your own, you have some ideas here.